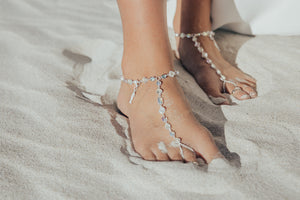 The sparkling Star of the Beach Boho Glam Collection, The Luxury Barefoot Sandal.
Stunning Crystals with Crystal Pearls placed in between the Sparkles.
Perfect for Beach Weddings. Keep your sparkles on when you are on the beach, put your heels on (you can still wear the Luxury Barefoot Sandals with shoes) then when you are ready to kick the heels off, Bling!! you've still got the Glam going on.
Perfect for the Bride, but also if you just want to feel completely FABULOUS!!   
Solid Sterling Silver Interchangeable Charms can be added to give that extra personal touch.